Our Products
At the core of the M. Robzen Product line is Steaktacular, a Philly Style sandwich steak product. With Steaktacular there are several offerings to chose from from Choice Ribeye steaks, to loin tail steaks, marinated chicken steaks and more. Custom orders can also be arranged using propriety marinades or meat blends.
Our products are truly a cut above the rest. We have real butchers at work hand trimming the meats we offer, ensuring you get only the best product available. From there our precision slicers and packers produce cuts to the tightest weight constraints. We can deliver exactly to your specifications every time.
We pride ourselves in offering products that go beyond the standard fare. We can work with you to create a product perfectly tailored to your needs. Contact us today to learn more about the private labeling and product development services we offer.
What is SteakTacular?
"Philly" Style Beef and Chicken Sandwich Steaks
• Marinated sandwich steaks for enhanced flavor
• Proprietary marinades available upon request
• Shaved thin for easy preparation
• Products are available in a variety of portion sizes
or bulk packages (See Portion Sizes Below.)
SteakTacular Products
Beef Rib Eye Sandwich Steaks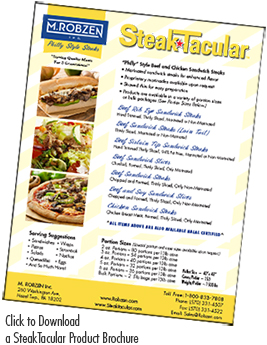 Hand Trimmed, Thinly Sliced, Marinated or Non-Marinated
Beef Sandwich Steaks (Loin Tail)
Thinly Sliced, Marinated or Non-Marinated
Beef Sirloin Tip Sandwich Steaks
Hand Trimmed Thinly Sliced, 94% Fat Free, Marinated or Non-Marinated
Beef Sandwich Slices
Chunked, Formed, Thinly Sliced, Only Marinated
Beef Sandwich Steaks
Chopped and Formed, Thinly Sliced, Only Non-Marinated
Beef and Soy Sandwich Slices
Chopped and Formed, Thinly Sliced, Only Non-Marinated
Chicken Sandwich Steaks
Chicken Breast Meat, Formed, Thinly Sliced, Only Marinated